During our three-week stay with Mark and Lori, Stephanie and I worked on a project for the galpão. Each Sunday night, as part of the gospel lesson, Mark and Lori choose a verse to focus on, going over it with the kids, explaining the Truth, and then handing it out on a coloring page for them to take home and memorize during the week. Every week they print out the verse and tape it up on a board for everyone to see. A plain, wooden board, white paper, black ink, masking tape. Blah!
Lori had the idea to spice things up a little, make this a beautiful display board that Mark would be able to hang up on the wall. So we got to work. We sanded down the boards Mark cut for us and started painting to create frames to mount the verses on. The four girls were over the house when we first started the project, so they were a great help in getting a huge chunk of the painting, beading, and glitter-izing of the boards finished.
When Eliel and his family came over to spend the day, he and his kids, Sofia and Hector, helped paint a few more frames. As we put the finishing touches on, Stephanie typed up all the verses they'd gone over in Aningas and printed fresh copies of them. Then Lori took them to get laminated (quite the process!) so that the printed verses will last longer. Finally we mounted the laminated verses onto the frames using double-sided foam tape. Each week, as new verses are introduced during the lessons, the verses can be rotated out and replaced using the same frames.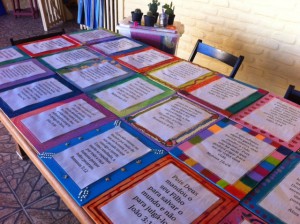 While we were busy painting and using gobs of glitter glue, Mark and the guys were putting together a display board for the frames. They painted it white and had it all set for when we came to slide the frames into place.