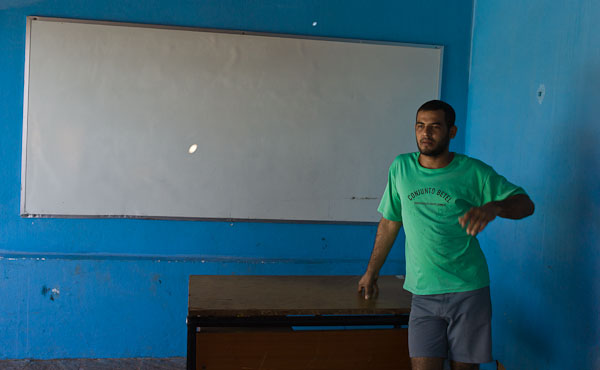 Clessio, one of the young men Mark and Lori brought to the Nova Aliança rehab center, is a testimony to the awesome power of God's saving grace. Back in June when we first met him, he showed us around the rehab center and told us some of his story. He was addicted to crack when Mark and Lori met him on the streets. They paid the 400 reais to bring him there and continued to sponsor him during his stay. He accepted Christ shortly after arriving and became a truly shining example of a transformed life.
Nine months later he moved out of the rehab and he is now working as a mason's apprentice near Igapó (the last street stop on Thursdays). He also has his working papers and insurance. But more than that he's had the chance to go and witness to friends that he grew up with who are still living on the streets. Rafael asked about him one day when we gave him a ride. Lori was able to tell him how well Clessio is doing because of what the Lord Jesus has done for him. Luiz is another young guy Clessio grew up with on the streets. He's hiding out somewhere because of a drug debt. If they find him, they'll kill him. All for 230 reais.
Clessio has so much potential to lead more men and women to Christ. He was into drugs just as deep as many of these people on the streets still are. Now he can't get enough of his Bible and he's thrilled at the opportunity to tell others of his Savior. Even if he were the only life changed by this little testimony in Brazil it would be so worth it. What an awesome God we serve!