Thank you for your prayer yesterday. We waited to see if there were any warnings on the news, heard that things were under control, prayed and went out to Cambuim and Kilometer 6. All went well and we had a great day with the kids in both favelas. It's always a thrill when they see us and start running alongside the truck.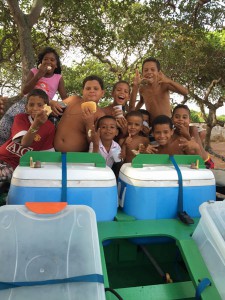 The situation here on the streets is being controlled by troops that were sent in yesterday, with more promised for today and tomorrow. Lord willing, we go out this afternoon to the 8 de Março and Leningrado favelas, with 500 more sandwiches, 60 liters of juice and the Word.
Here are some photos from yesterday. David and Hannah Prins are here. We are loving their company and are so thankful for the fellowship and the help.