One of our favorite things about visiting the rehab is seeing the guys we've brought that are doing well. Ricardo and Mario are already here, and on our way to visit, we pick up two more guys who have asked to come. We stop by the police check point near Mosquito to pick up Rafael. He promised to meet us here at 10:00 am and we see him, waiting, ready to go. He gets in the car with nothing, no bags, no clothes, nothing. Just the clothes he's wearing, dirty and worn. He's twenty-four years old.
He's asked to come before, but never followed through. "It was in my mind a long time," he tells us, "I gave up. My heart is filled with the desire to change. I know God has something different, something better. If God frees me from this maybe I can help other people." He's quiet unless we ask questions, staring out the window as we drive down the road, headed to where Francisco is waiting to be picked up. We ask him how long, when he first tried drugs. "I was seventeen-years-old the first time I tried crack," he says. "I started with cigarettes, then marijuana with friends. I was living with an aunt who took care of me for a while. My mother died and I never met my father." The air outside is hot. The air conditioning is cranked in the Tracker, a cool and bumpy ride to meet Francisco.
Rafael keeps talking, telling us his story. "I tried it once. Then two or three years later I became really hooked on it. I started going out with friends after being in the army for a year. I was also drinking with my friends and the drugs make you want to drink to slow you down a bit." Rafael looks out the window, still thinking but not saying anything. His fears. What scares him about rehab? "I have no one. I have no one there for me. My biggest fear is that I'll go and there will be no one there to visit me, no one on my side. I want to get back to a normal life. It's been fifteen days since I've used. I was already thinking, thinking thinking, and praying. I was praying when you came to Mosquito [with the sandwiches and juice] that day. I was there by coincidence. I don't live there. I'd been living down by the river." He thinks about "coincidence" and God's timing and Clessio.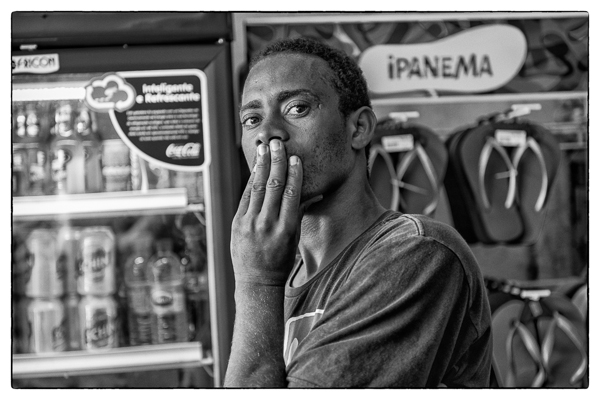 He was good friends with Clessio. Clessio who got off the streets, was saved and radically changed for God. Clessio who got out of rehab, dug deep into the Word and shared the gospel with his street friends. Clessio who found a job, kept preaching and sharing Christ with his family until he was shot and killed by desperate addicts in search of drugs. Rafael thinks about Clessio. We pick Francisco up near Ponta Negra. He's twenty-six and this is his fourth time going to rehab. Why is this time different? "I have a five-year-old son," he tells us, "and my mom is getting older now. This time I need to think more about the future and really search for God. I need to be there for my mom and my son. I want to be a seen as a dignified person. So much time has gone by." Francisco is chattier. He's done this before. It's a tough transition from the streets to the rehab center. "You have a lot of freedom on the street," he says. "That's why nobody can count on us. You can't trust us because we're too busy with what we're doing.
When we go to the rehab we really do want to be there, but then we start to feel boxed in." He's been doing drugs since he was twelve. "I started using crack when I was fourteen. I was smoking marijuana for two years before that, but then my uncle gave me crack." We're on our way to the rehab now. We'll make one more stop for some supplies for the guys. We're still asking Francisco questions. When did he realize he was an addict? "You only realize it at the end. You feel like you're the one who can control it and stop. You think, 'whenever I want, I can stop. This is not in control of me. I smoke when I want.' I was thinking I'm in charge of myself and they [my friends that left me] just let it take over them." During a prison sentence that Francisco served for robbery, he cleaned up a bit and was doing alright. He never stopped smoking marijuana, but he was able to stop using crack for two months. "So many kids really, really, honestly want to stop, but they can't. Friends and family and everyone stays away from you and you still can't."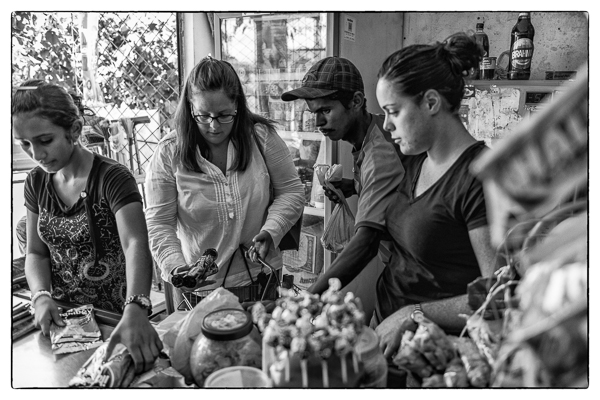 We pull up at a mercandino (little market) near the rehab center. We grab a few baskets to fill with stuff the guys will need: soap, deodorant, cookies, bags of sugar, toothbrushes, toothpaste, bars of laundry soap, crackers, shampoo, shaving supplies, and chips. Lots of munchies and sweets to help curb their cravings. Rafael stands watching while we sort the items into seven separate bags: Rafael, Francisco, Mario, Ricardo, Luciano, and two extra just in case. He's standing in the middle of the store, a bit lost, hand on his mouth, smiling when we catch his eye. He fidgets, smiles, shifts his feet. No one there for me. No one to visit. This is his family, right here, in the store, buying supplies to hold him over for the first two weeks until they can next visit. This is the family that tells him, "If you don't fix your eyes on Jesus Christ and stay at the foot of the cross you don't have a chance. Seek Him with all the force of your will and don't let Him go. Fix your eyes on the future. The road is narrow."