God whispered in my ear.Three times actually. No, I'm not hearing voices, but His Word kept coming to my mind, and the whole experience turned out to be the best heaven-hug I ever got.
It started yesterday morning on the street. Adriano came running as soon as he saw us and said that he really needed the rehab.
"Come tomorrow," he said, "and Jefferson wants to go, too."
So I said to God, "Lord, I was crying this week, and asking You where the victories were, and here You are, sending me two of my favorite kids to go to the rehab. I love You, Lord."
He whispered, "Here I am."
So, today we arrived to pick up the two boys, but three boys were there!
"Ah, Lord," I said. "Beyond what I ask or think, right?"
He whispered, "Here I am."
We got to the rehab and the boys got signed in and told about the rules. After that, Mark and I signed for each of them, accepting the responsibility for their care, health and needs during their stay. Then, we gave Goiás the money for food that we always give when we bring kids to the rehab.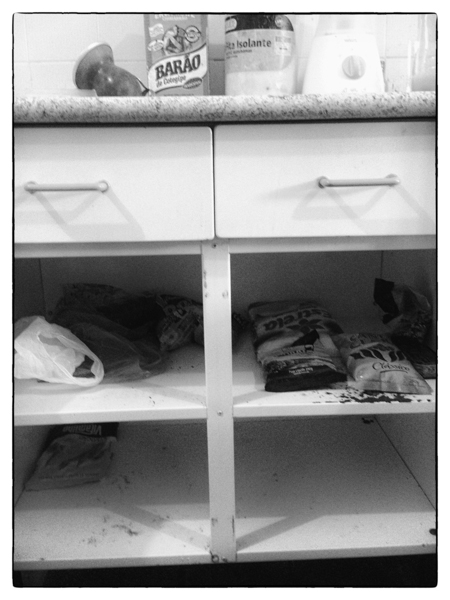 Goiás said to me and Mark, "Come here, I want to show you something."
He took us to the kitchen and opened the freezers and the pantry and a food storage cabinet. They had been promised a food donation, but it didn't arrive. So, they prayed. And we arrived.
We stood in that kitchen and bowed our heads and told God that we love it when He's so near that our hearts feel like they're bursting with the joy of it. We love when He proves His love to us and lets us know that we're not alone.
I blew Him a kiss and He whispered in my ear again. You know what He said.
Then you shall call, and the Lord will answer; you shall cry, and He will say, "Here I am."
And if you pour out that with which you sustain your own life for the hungry and satisfy the need of the afflicted, then shall your light rise in darkness, and your obscurity and gloom become like the noonday.
(Isaiah 58:9,10 AMP)