A Day in the Life of Mark & Lori Procopio: A special Christmas meal, through the eyes of a visitor.
By Sandra Livingstone
THE STREETS OF NATAL– Christmas Meal Delivered
It all starts with two massive pots of baked beans (with lots of other tasty things added in!)  These cook all night and someone has to stay up to stir them every 30-45 minutes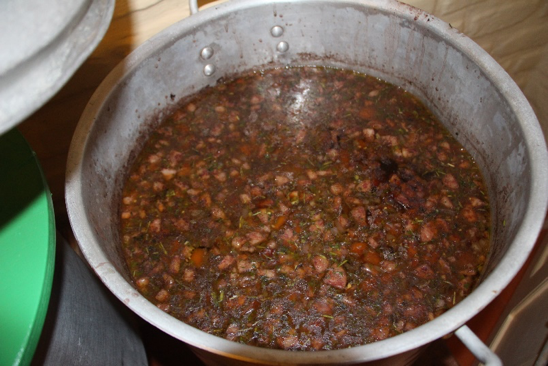 There are also large pots of rice cooked early in the morning.  They are then dumped into two large plastic bins that have a special space on the back of Mark's truck.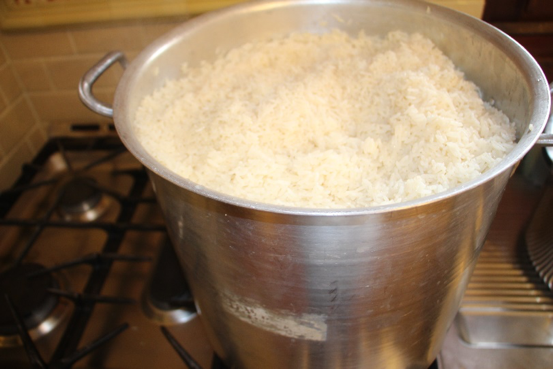 Bags of farofa are emptied into another large plastic bin.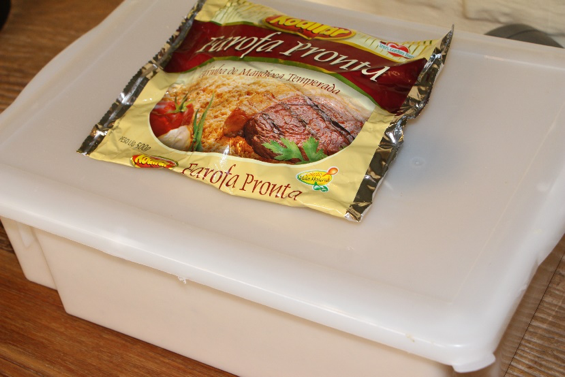 Mark has built a wooden compartmentalized piece for the back of his truck that holds the large pots of beans, container of rice, and juice coolers.   Straps are tightened to hold everything in place.  The food can be served right from the back of the truck.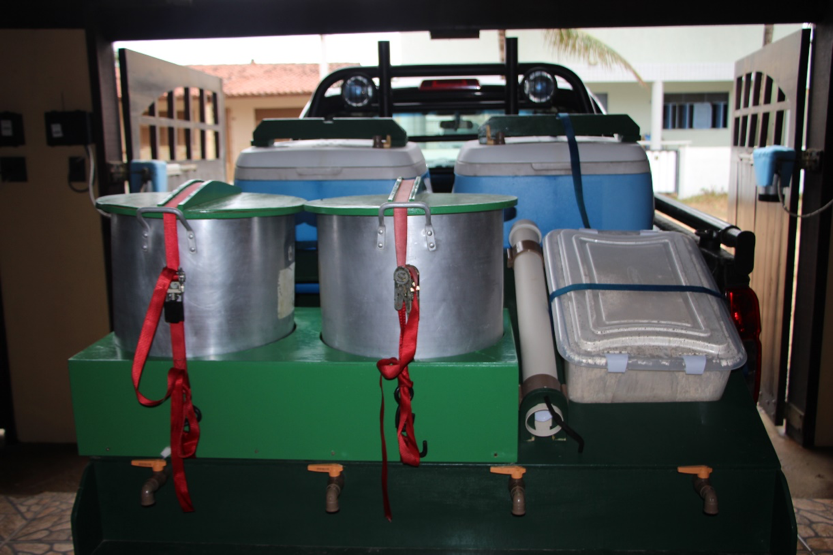 Our first stop of the day (second day of serving this special meal), we stopped at a favela called Cambuim.  We developed a system with Mark scooping the beans and Layane holding the dish for Natalie to scoop up the rice.  Then I added a scoop of farofa on top and put a spoon in the dish.  Lori then handed the dish to the next person in the line.  Meanwhile, Antonia Bednarik made sure every person received a gospel tract.  There were at least 150-200 people served in this area.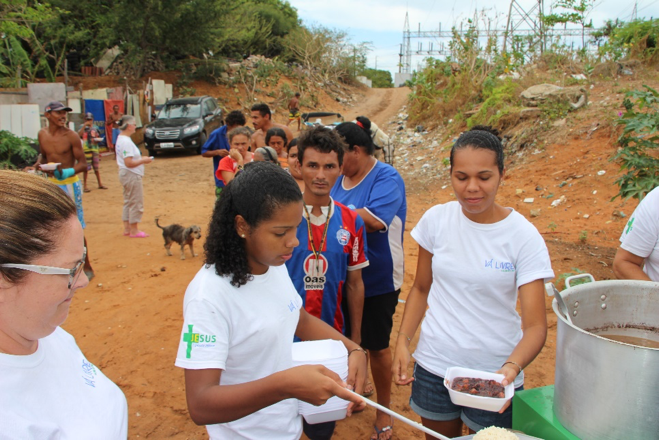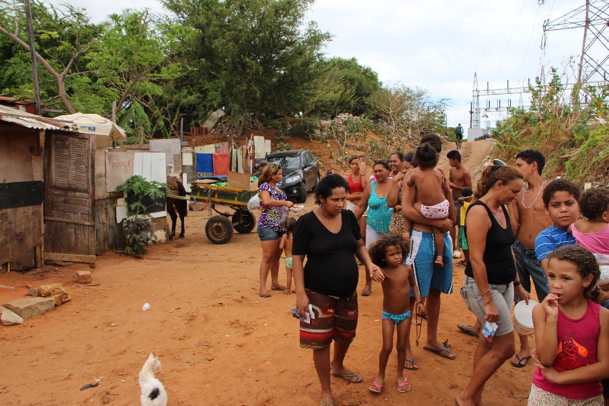 The second stop for the day was at Km 6 of Felipe Camarao where the rest of the food was distributed.  Children came running from all directions, and many adults joined the line also.  The food distribution team:  Layane, Sandra, Lori, Natalia and Mark.  Antonia was busy distributing gospel tracts again at this location.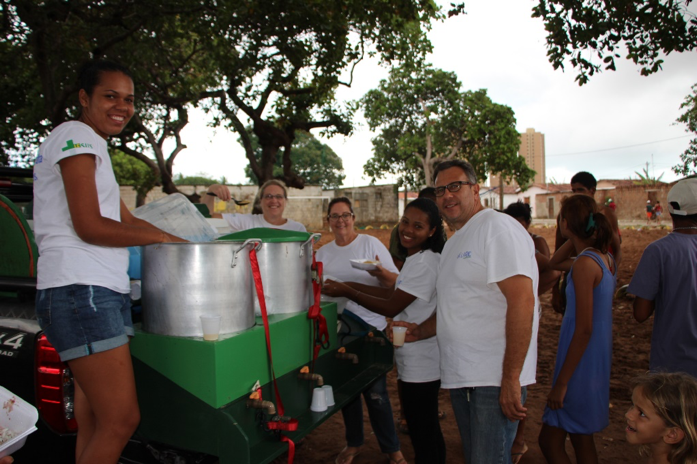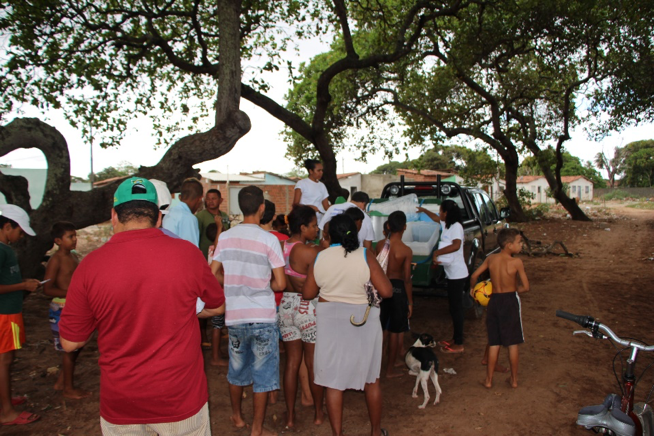 This is what it's all about:  touching a life, showing love and compassion, being the hands of Jesus in a world filled with alcohol, drugs, abuse, and lack of the basic necessities.  Mark and Lori are not afraid to get their hands dirty, and they open their hands, hearts, and home so willingly.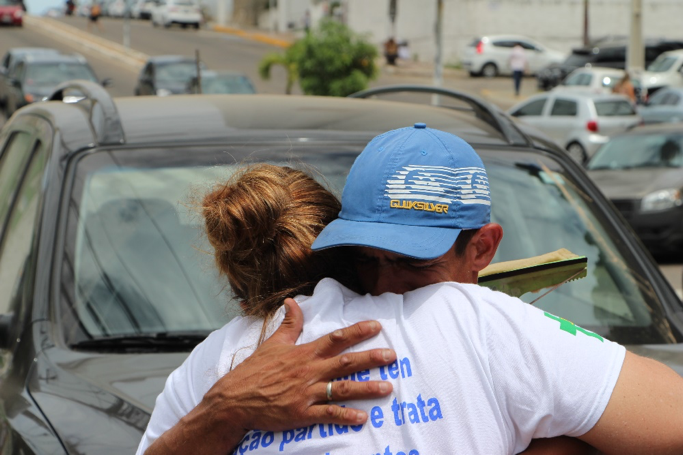 This young boy finds it very hard to walk because his feet are so infested by bugs that they are swollen and painful.  He probably doesn't even own a pair of shoes!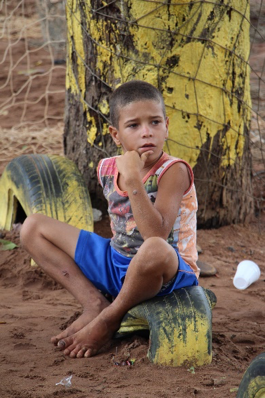 Did you stop today to thank God for a home in which to live? decent clothing to cover your body? a pair of shoes on your feet? a safe environment in which your children can live and grow?  Please take a moment to thank God for so many basic needs that we take for granted but which are not part of the lives of these children.  Also remember in prayer Mark and Lori and the young people who help them when they are visiting these very poor areas and taking food or helping with their medical needs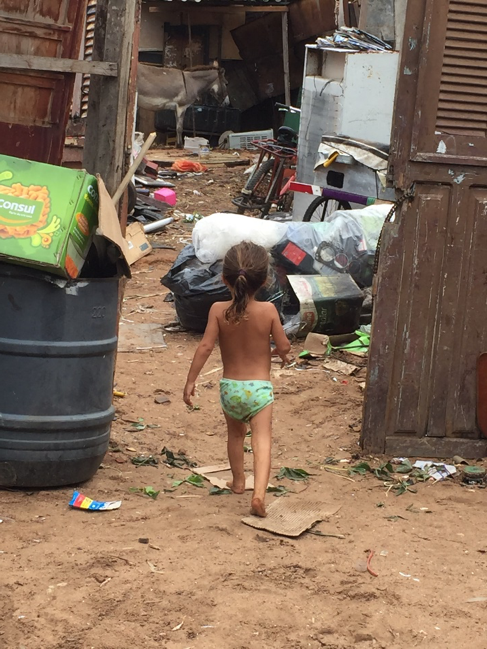 Even though Lori doesn't have a medical background, she is often called on to administer first aid for these people.  It might be as simple as cleaning and dressing a wound, as repulsive as digging bugs and eggs out of a child's foot, or as severe as dressing a stab wound.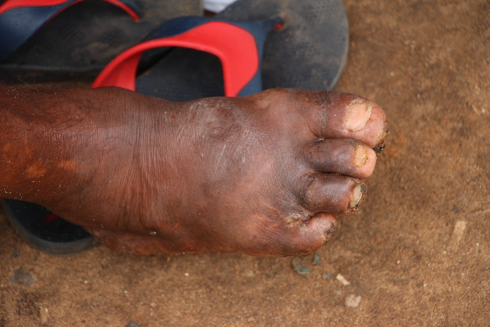 THE TOWN OF ANINGAS – Christmas Fun
Another special event that happens over the Christmas holidays is a fun day for the children in the town of Aningas where the orphanage will be built.  Children wait in anticipation for the afternoon when fun and laughter and color brightens their little world!  A variety of equipment is set up and the children line up and wait patiently for their turn to slide or jump or play.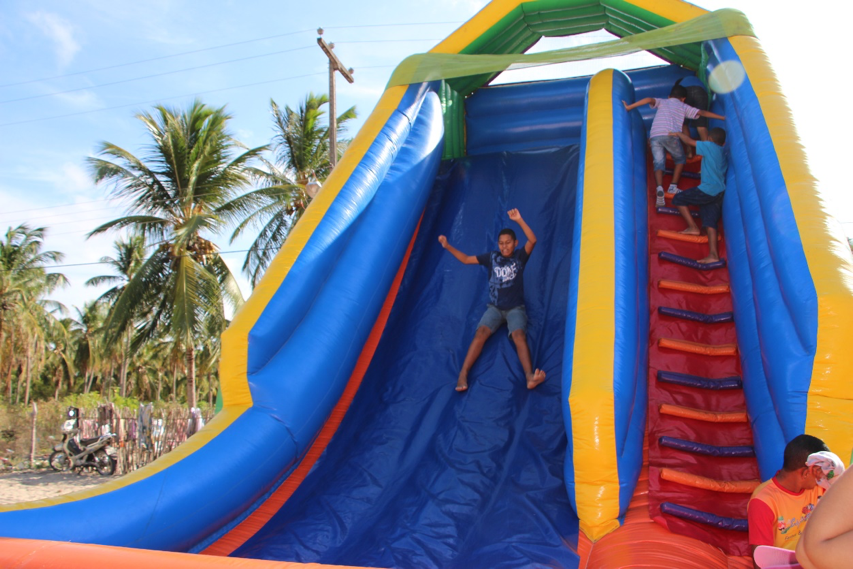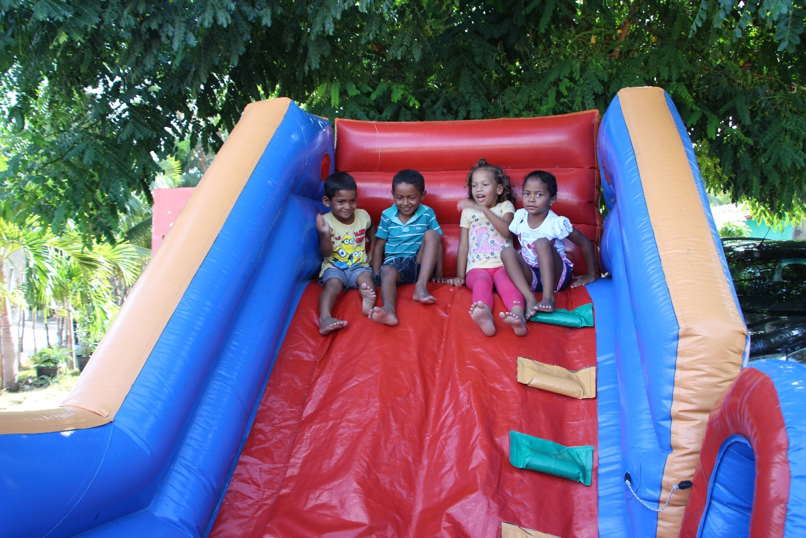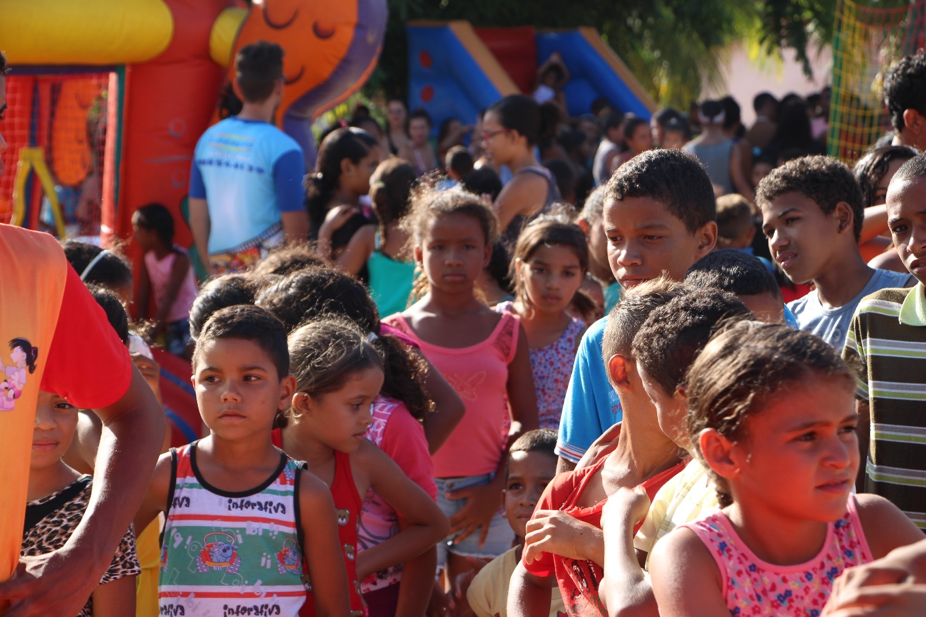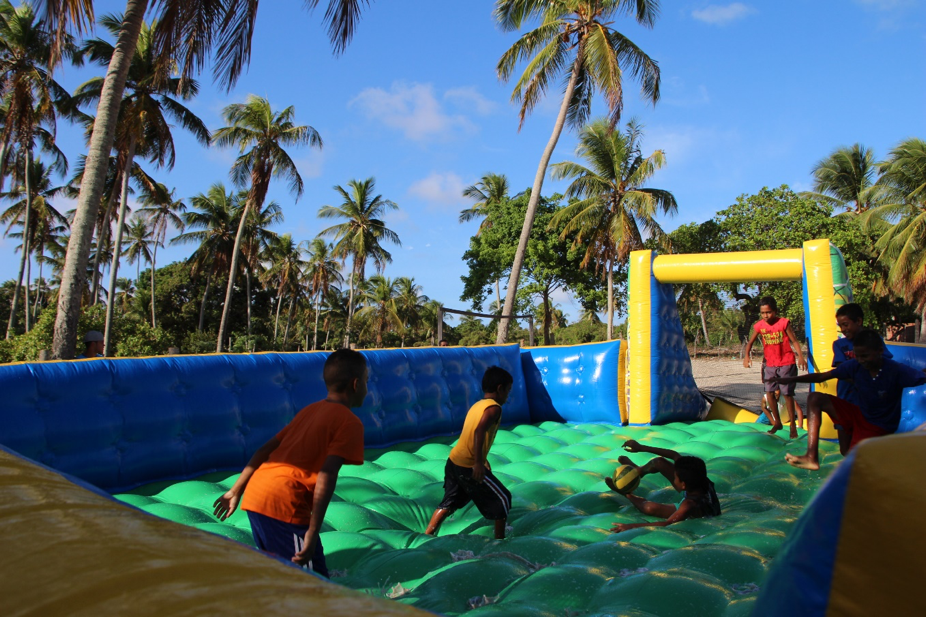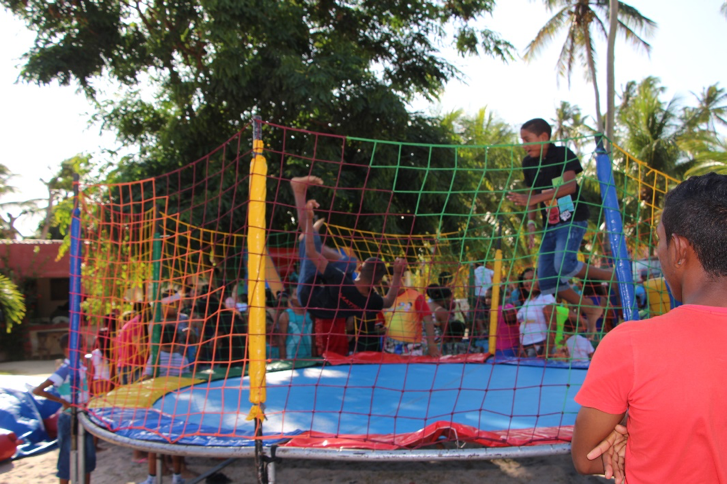 After the kids have played for a while, they are all given a corn snack and even the adults come looking for a treat.  There were lots for everyone, and no one was turned away if they came back a second time.
Later in the afternoon when it was hot, we gave out popsicles to everyone.  They are a nice fruit-flavored creamy popsicle that really hit the spot on a hot day!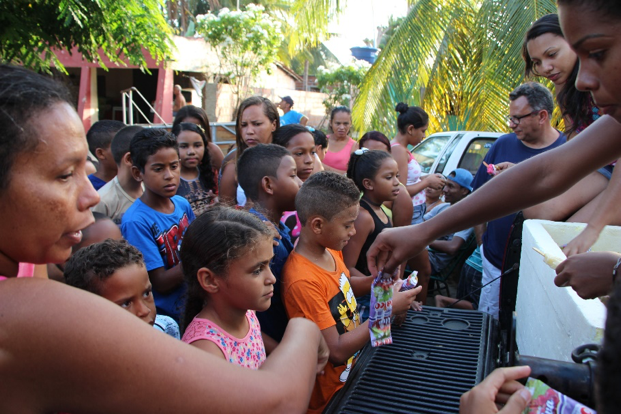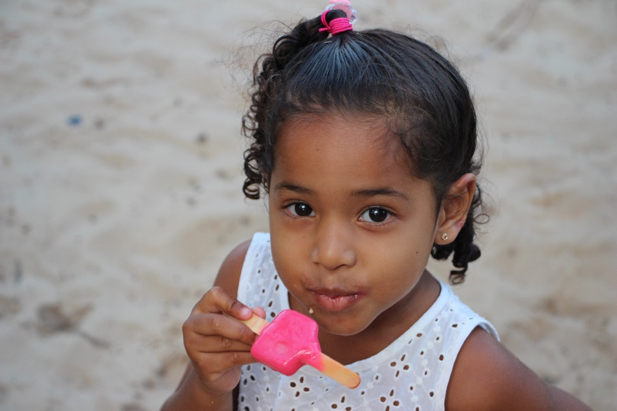 Please pray for Mark and Lori as they continue their work in Natal and look forward to starting building the orphanage in Aningas.  Pray for their safety and wisdom as they move forward when God opens doors.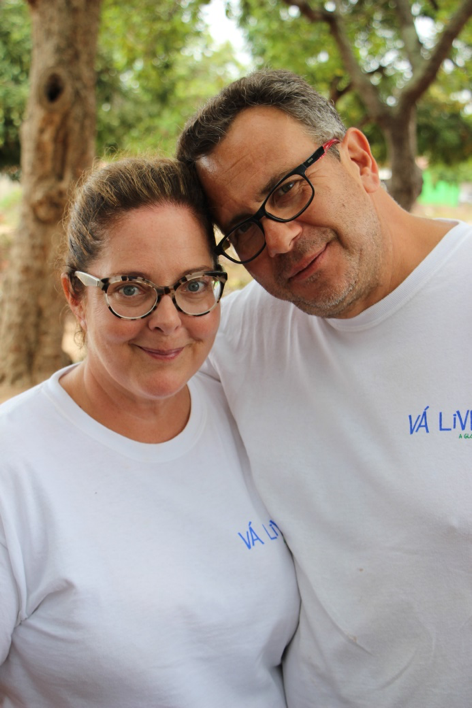 There are a number of nice young people who have gotten saved, but during the Christmas holidays while we were there to help the Procopios, we spent quite a bit of time with two young ladies.  Please pray for their spiritual growth and preservation.
Natália and her cousin Layane
Mark and Lori Proopio with four of the young Christians.  Back left to right:  Geovane (age 23), Lori, Natália (age 21), Joab (age 20).  Front:  Layane (age 21) and Mark.