Thanksgiving day. Balmy 85F here, so it didn't really feel like it. But there's always so much to be thankful for!
I set out this morning with the girls, Natalia & Layane, to search out some more horses. As of this AM, we had already given out a total of 60 cotton nosebands with Bibles. The girls are calling the horses we help "cavalos salvos" – "saved horses." 😂 With our time here already more than half over, we really wanted to reach 100.
We drove slowly down a road called Estivas, near Mark & Lori's house, looking like owls back and forth across the road for any signs of a horse, mule, donkey, or cart. We found a few horses that were riding on the road itself, but not enough to increase our numbers significantly.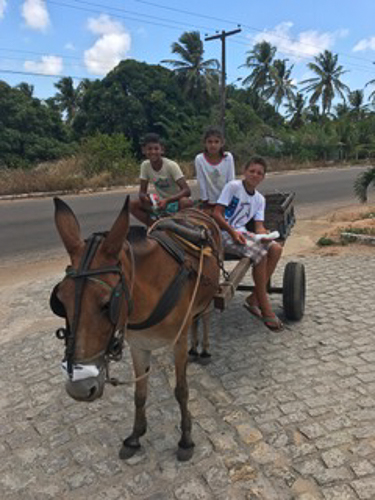 Time to bump up our game. Windows down, we continued driving. Every time we approached someone sitting on their porch, or the side of the road, we stopped to ask if they owned horses, or knew of anyone nearby who did. Jackpot! People started giving directions – "Keep going a little bit more, and pull in at the white & blue house; they have two horses."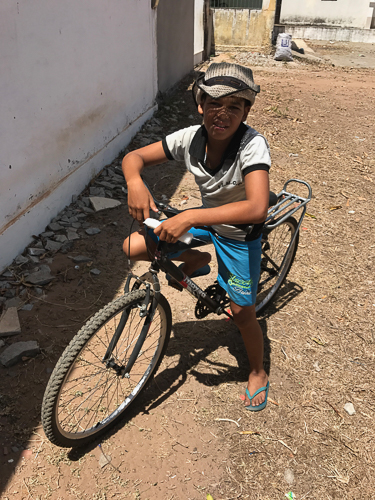 Cowboy-to-be Diego, after taking a noseband for his own horse, led us on his bike to other houses nearby that had horses.
Some people even rode their moto or bicycle in front of our car, to lead us to their house directly! By 11:30, we had given out 27 nosebands, and many more Bibles. In fact, we had run out of Bibles!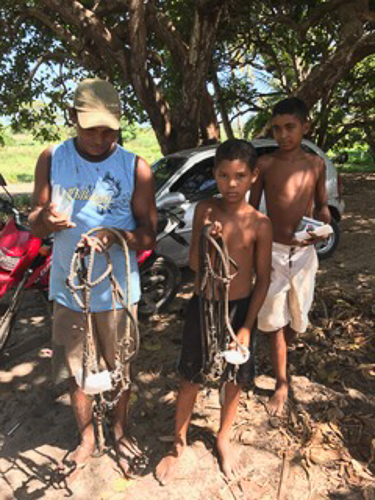 We zipped back to the house and loaded the car with 3 new boxes of Bibles. Restocked and ready for action, with only 13 nosebands left to hand out to reach our goal of 100! But now the clock was ticking. Thanksgiving mealtime was set for 4pm. I had wanted to make some dinner rolls to contribute to the glorious meal that Lori was making. So before heading back out, the girls and I whipped up the bread dough, and popped it in the fridge for a slow rise. Washed our hands, and then back out on the street!
We returned to Estivas, this time closer to the house, again going door-to-door, asking if anyone had horses. We were keeping count as we handed them out. Twelve left…8…5…1…DONE! (Or so we thought…) Excited with reaching our goal of 100, I returned the girls to Aningas and then headed back to the house to finish up the dinner rolls.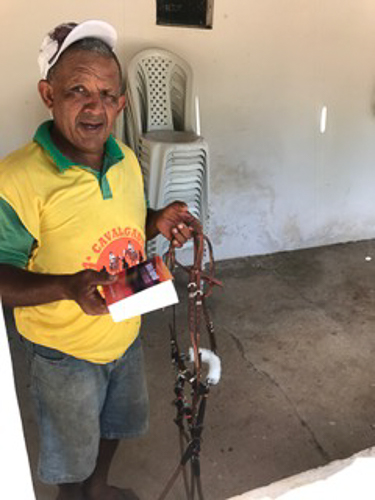 Back home, I scrolled through my photos and double-checked our horse count. One short. Ninety-nine total. How could it be?! We had to use two nosebands on one of the horses today, because the metal piece was so wide. So 100 nosebands handed out, but only 99 cavalos salvos. Oops!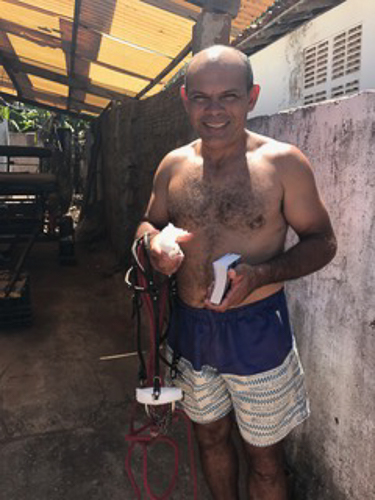 Enjoyed a delicious Thanksgiving meal prepared by Lori, and counted my blessings. The dinner rolls weren't quite as fluffy as we'd hoped for, but for baking bread in the tropics, they weren't too shabby 😌 After dinner, I FaceTimed my family from the roof of the house (Mark built a staircase up to the rooftop patio, which has the best view of the beach).
And lo and behold, while Facetiming, what do I see galloping down the beach? Horse #100!! I didn't want to yell from the rooftop to the guy riding, so I just watched him pass by while I finished talking to my mom, and then passed the phone to Nonna & Papa. Meanwhile, I rushed out to my car and grabbed a Bible and noseband, and then headed out to the beach on foot. I jogged down the beach following the horse's hoof prints in the sand, my Thanksgiving meal weighing heavily in my stomach. I went as far as the hoof prints took me, and then asked two ladies sitting on the beach if they'd seen a horse pass by recently. Nope. Fail.
So the total remains, technically, at 99 for the day. I sent a message to the girls and they got a good laugh out of my beach escapade. God-willing, tomorrow we'll cross into triple digits.